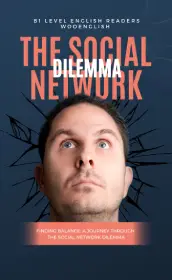 The Social Network Dilemma
Authors: wooenglish
In B1 pre-intermediate, B1+ intermediate, B2 intermediate-plus, B2+ upper-intermediate, Free Ebooks
By ouba abdou
"Step into the compelling narrative of 'The Social Network Dilemma' – an enthralling eBook brought to you by WooEnglish. Centered around Alex, a high school sophomore navigating the exhilarating yet treacherous world of social media, this story delves into the modern age's digital dilemmas. At the heart of the tale is Alex's journey from social media novice to an overnight viral sensation, and eventually, a victim of digital obsession. The story offers a candid portrayal of the dark side of online popularity - the relentless pursuit of validation, cyberbullying, the fading line between real and virtual worlds, and the toll it takes on mental health. As Alex grapples with these challenges, they also embark on a journey of self-discovery. The struggle with online obsession gives way to valuable lessons about balance, self-worth, and the importance of real-life connections. This story is not just about the trials and tribulations in the digital world, but a broader exploration of a young person's journey to understand themselves better. It is a narrative that resonates with the digital generation, striking a chord with anyone who's ever scrolled through a feed or counted likes on a post. Immerse yourself in 'The Social Network Dilemma' – a tale of struggle, self-discovery, and ultimately, empowerment in the digital age."
Subscribe to Our Newsletter
Subscribe to our newsletter & get notification about ebook.